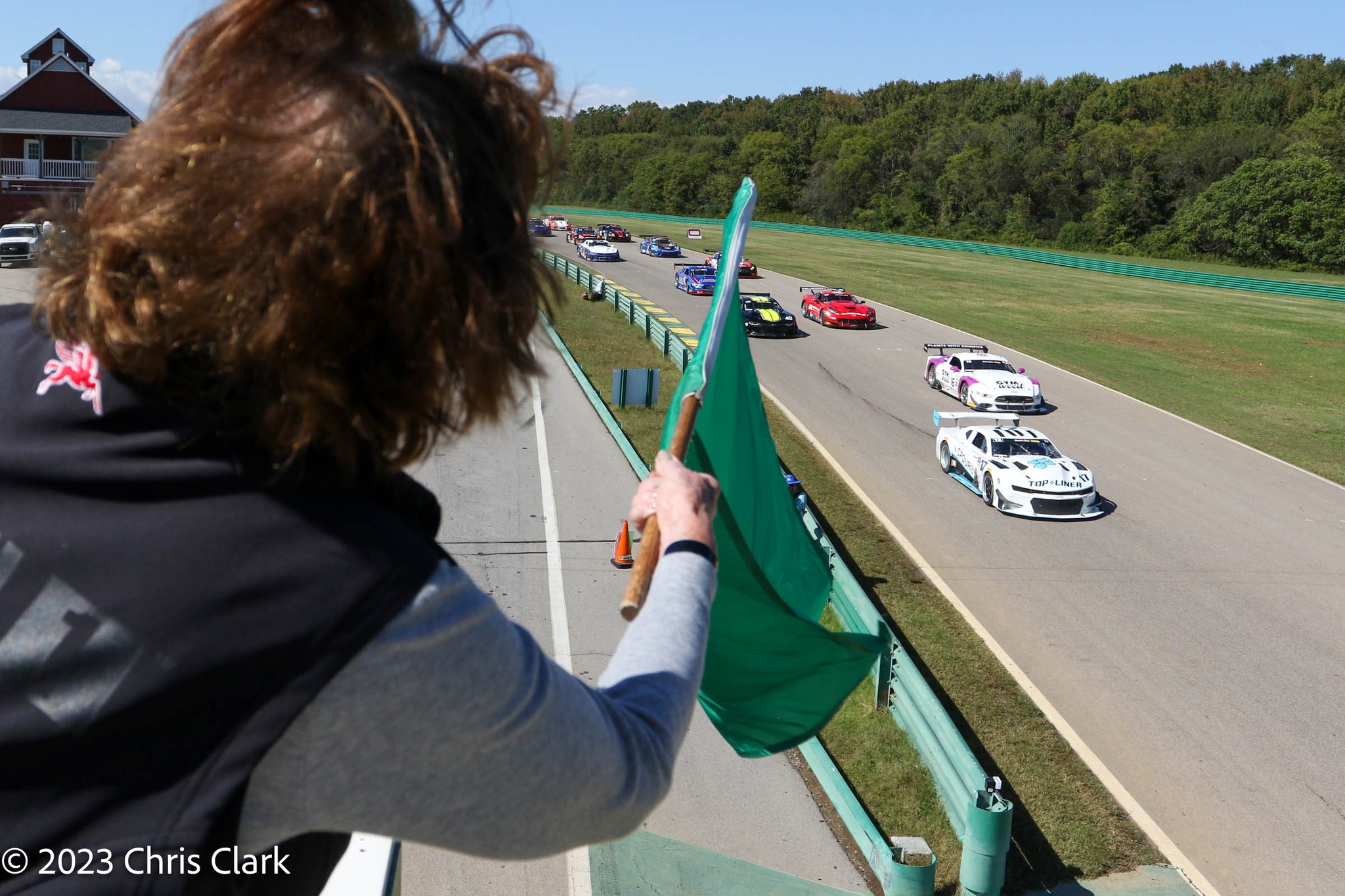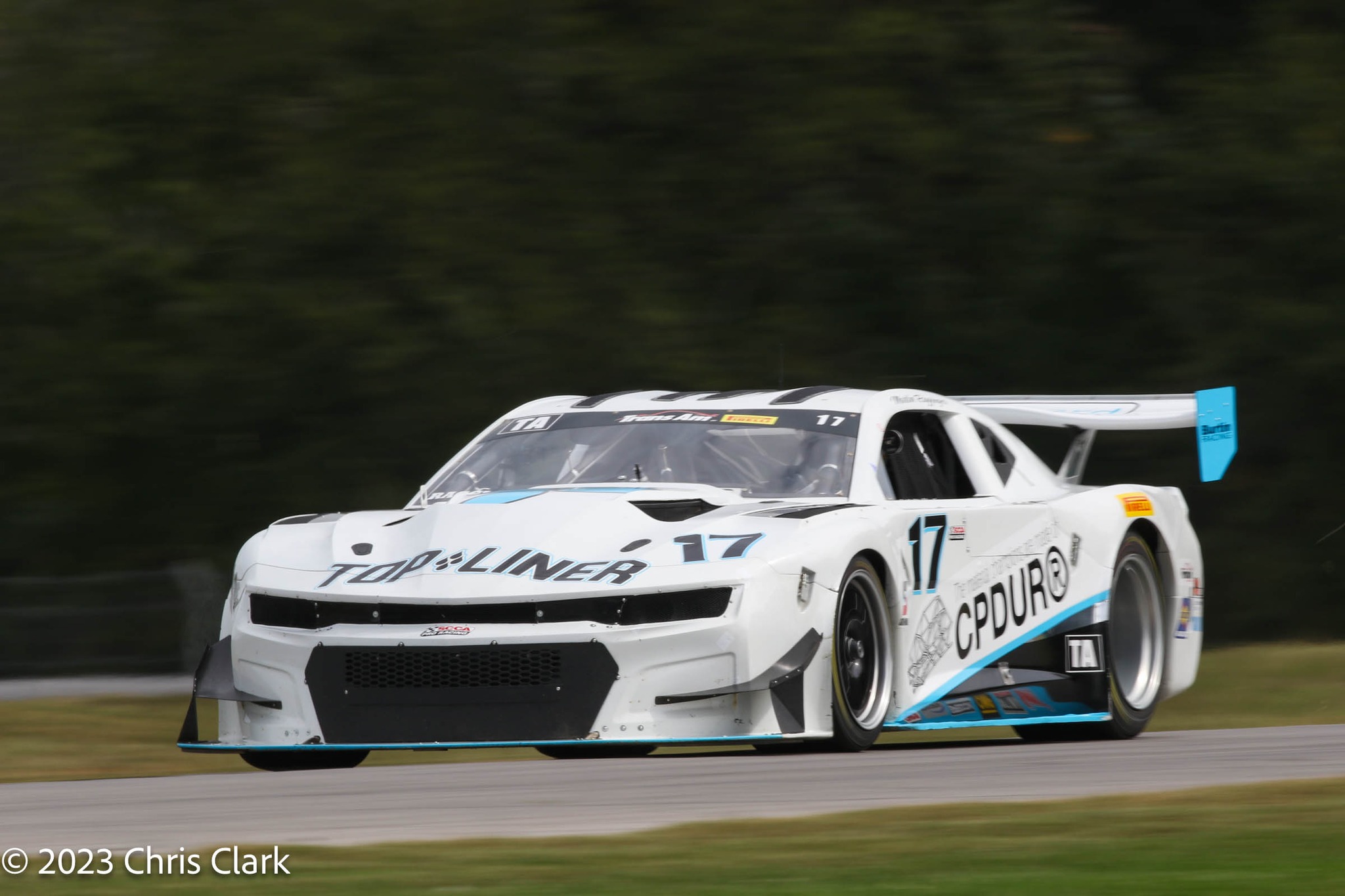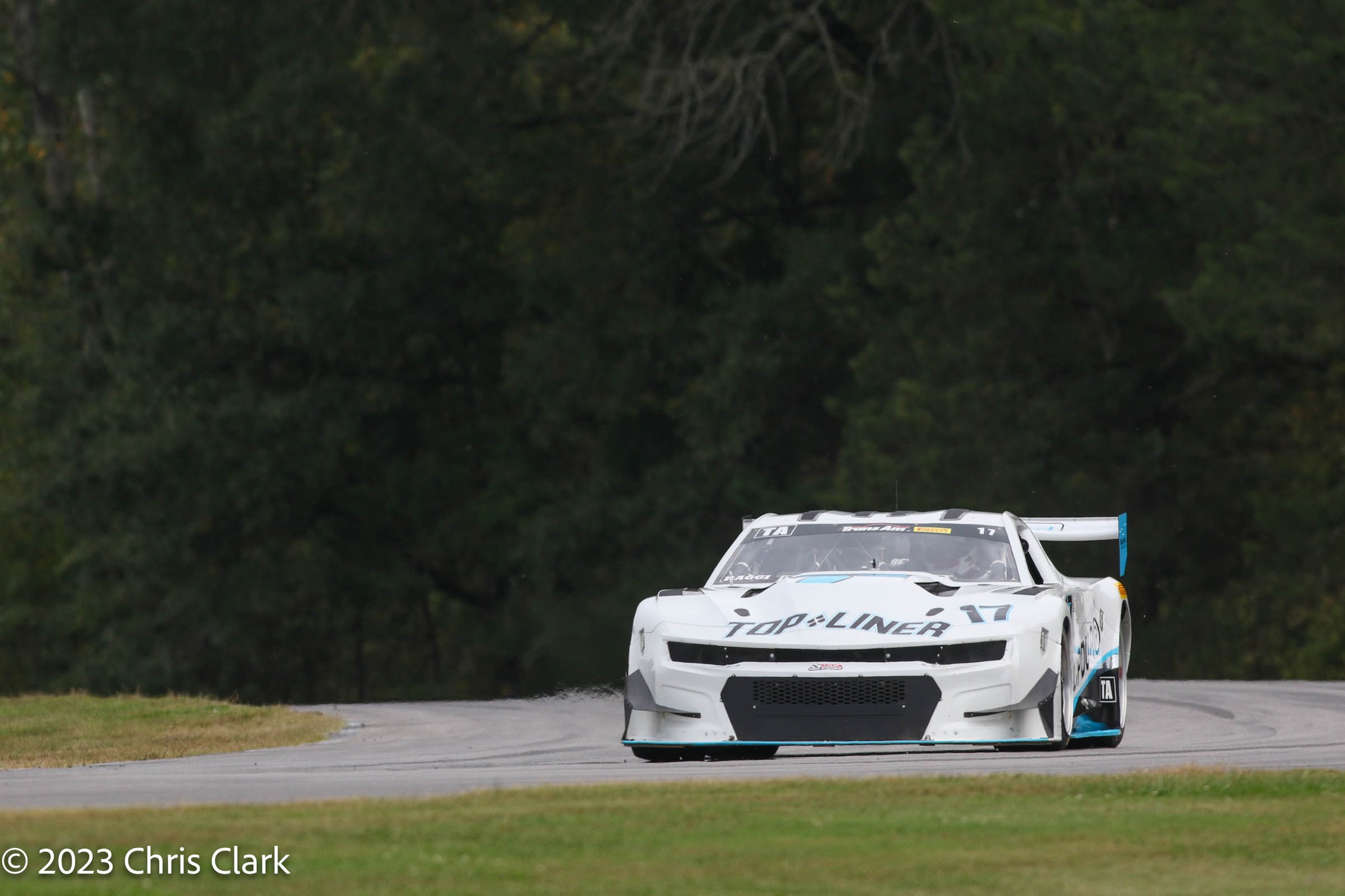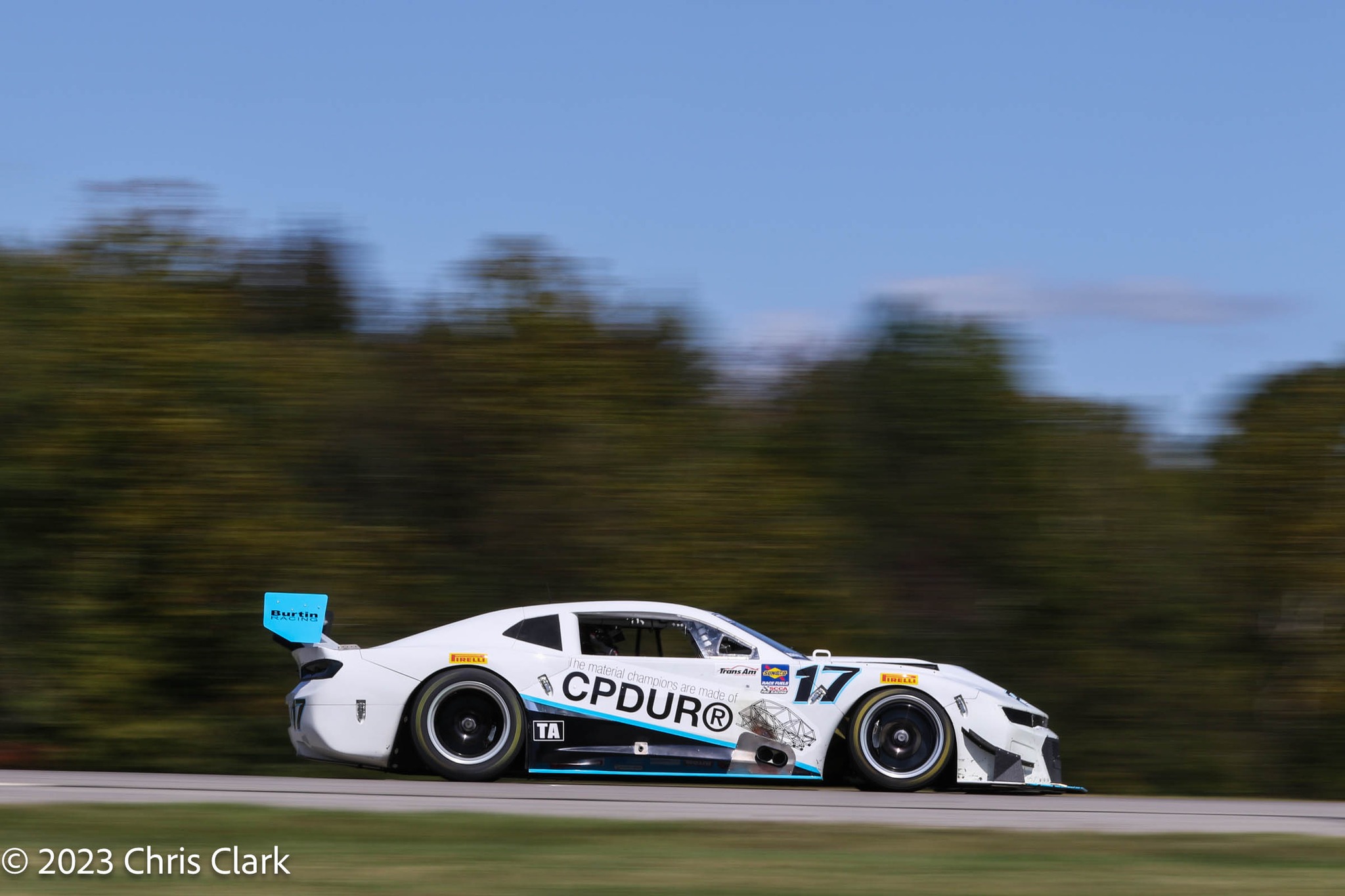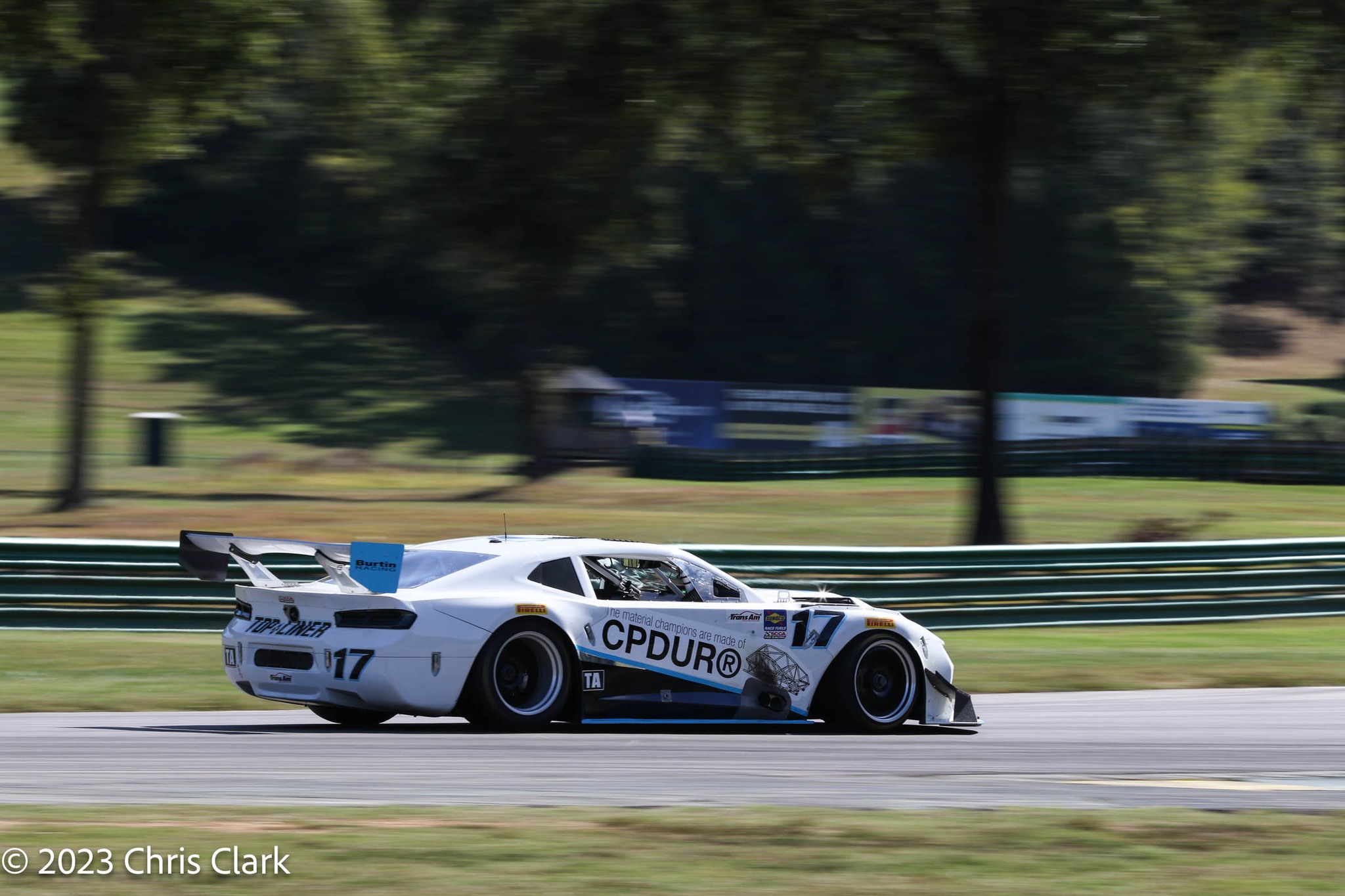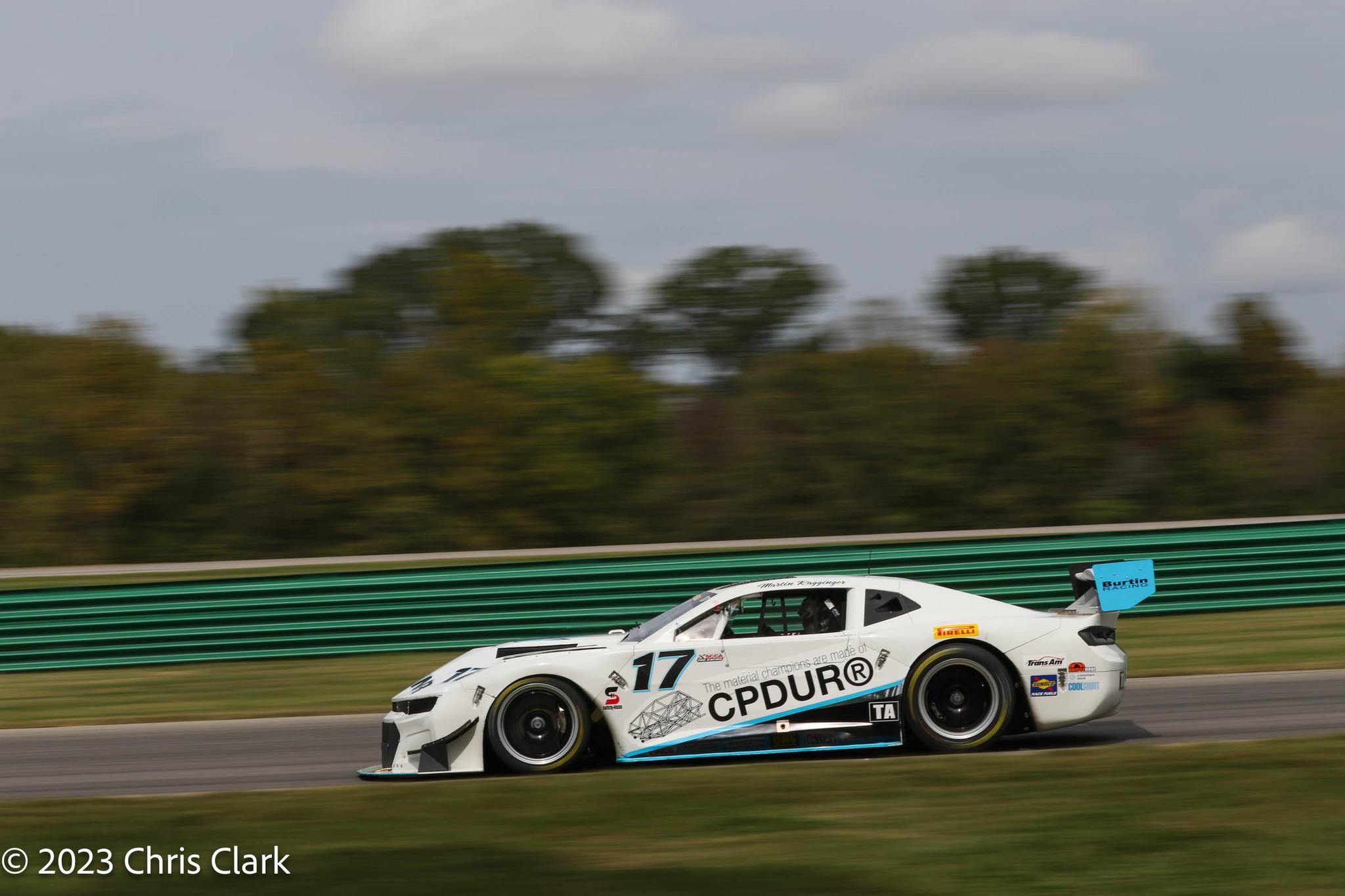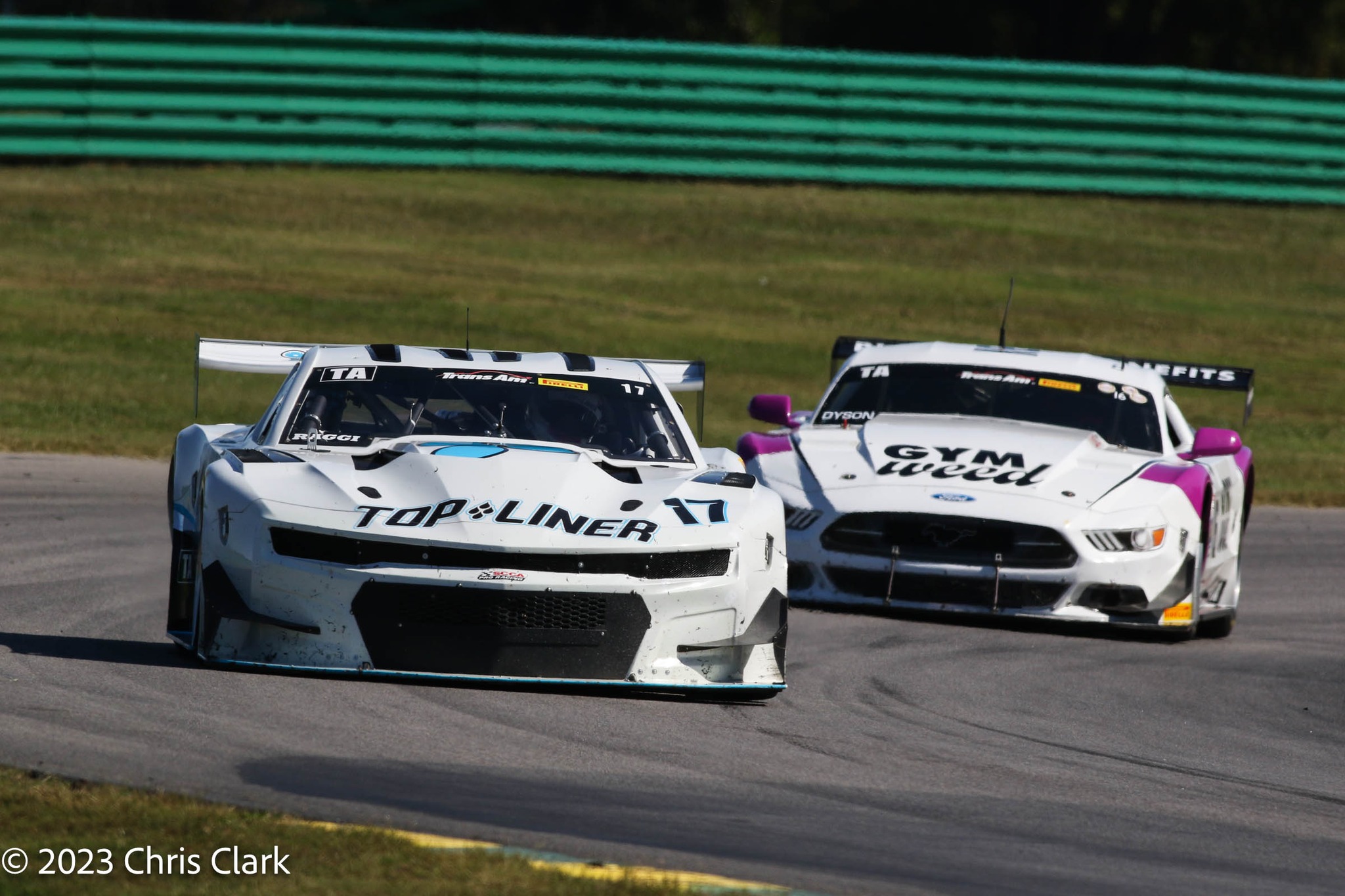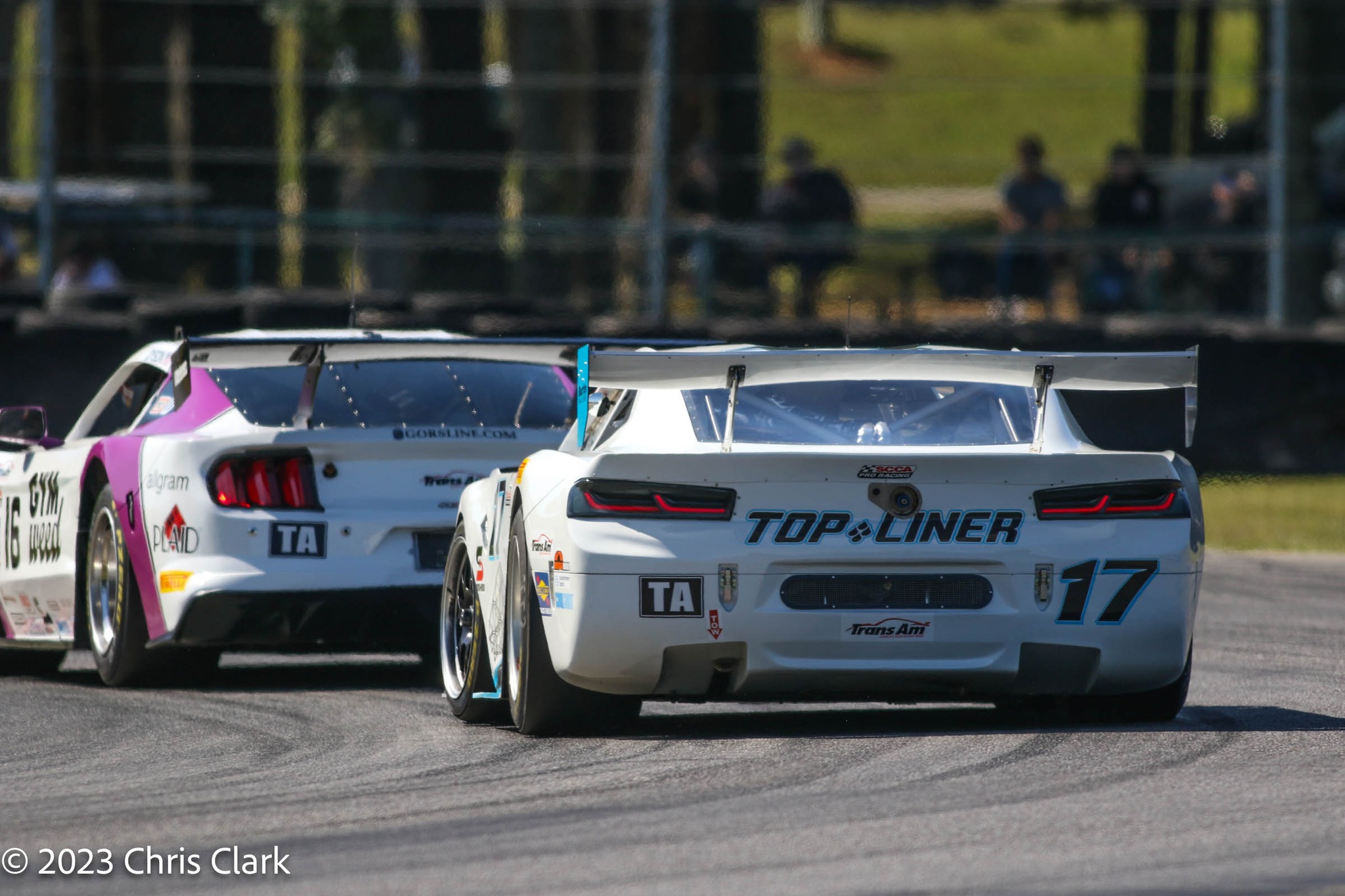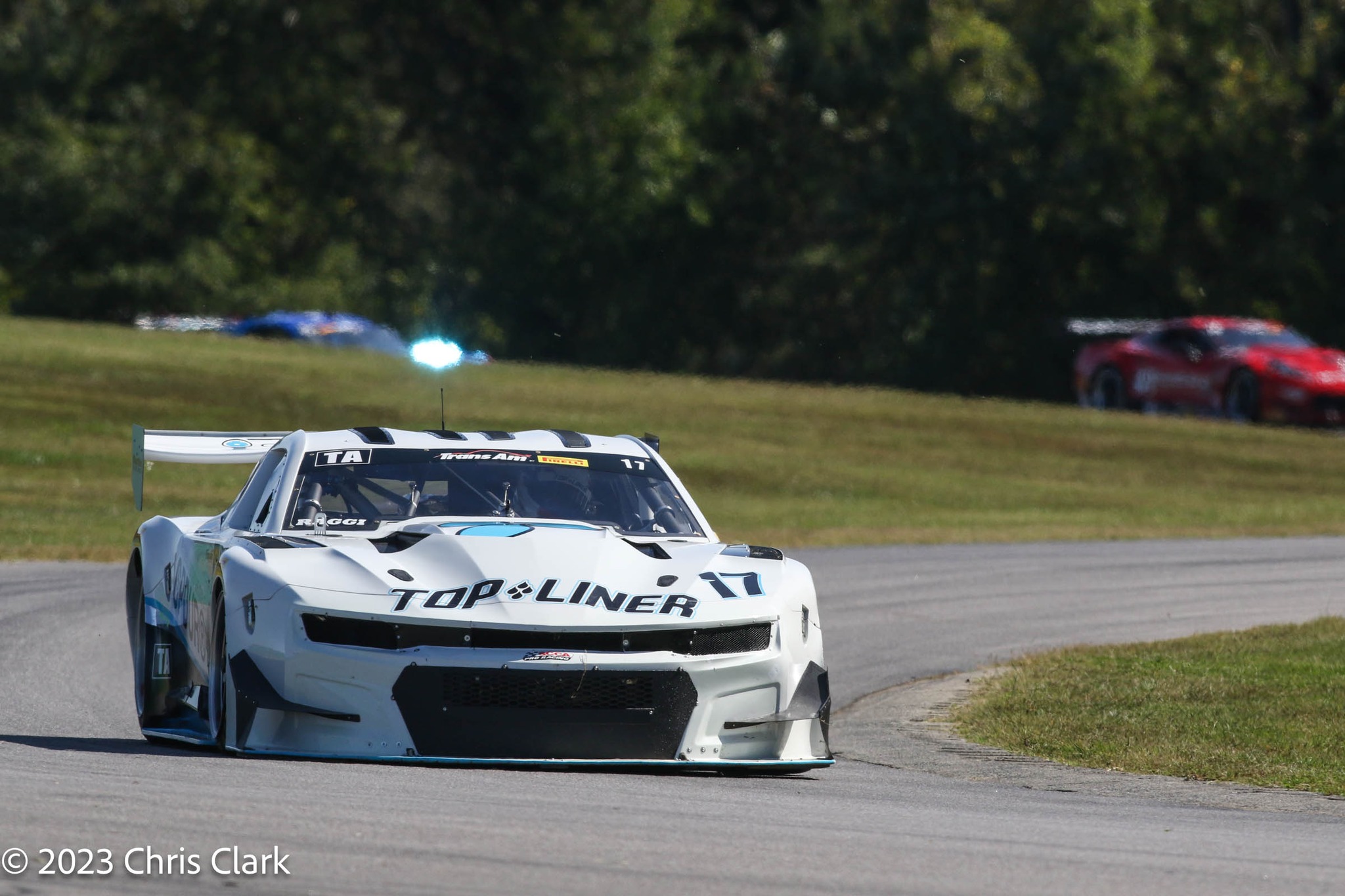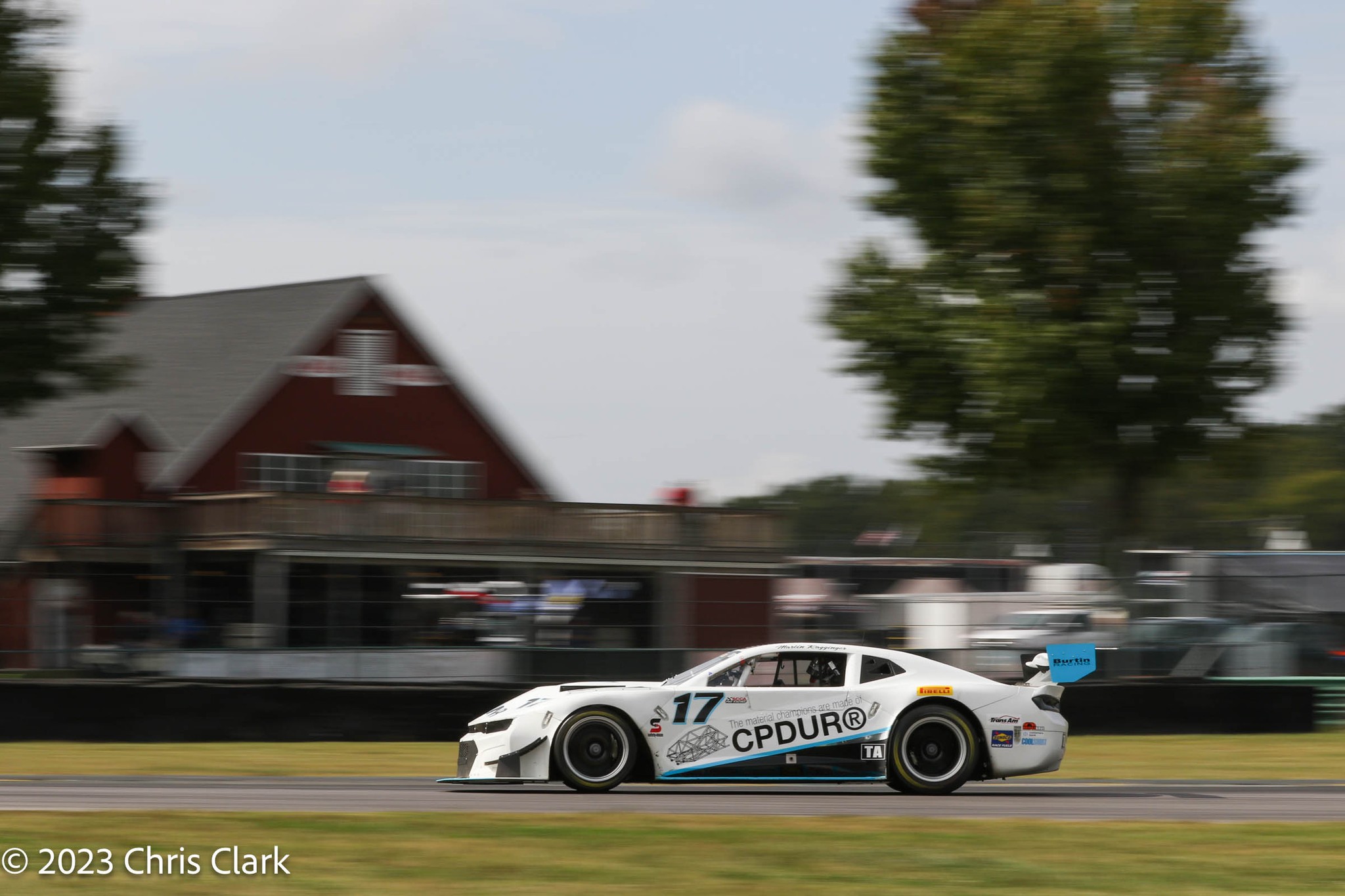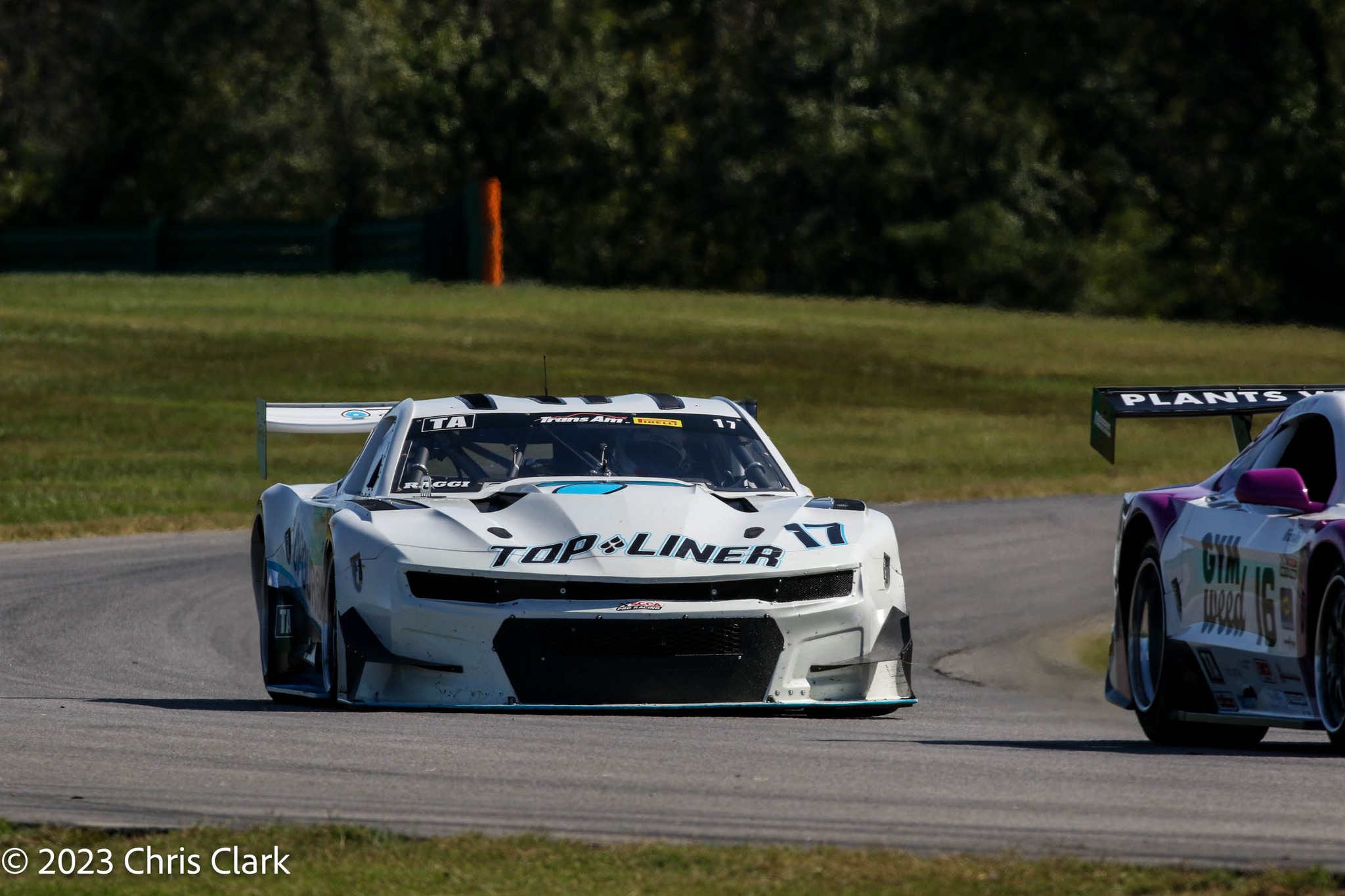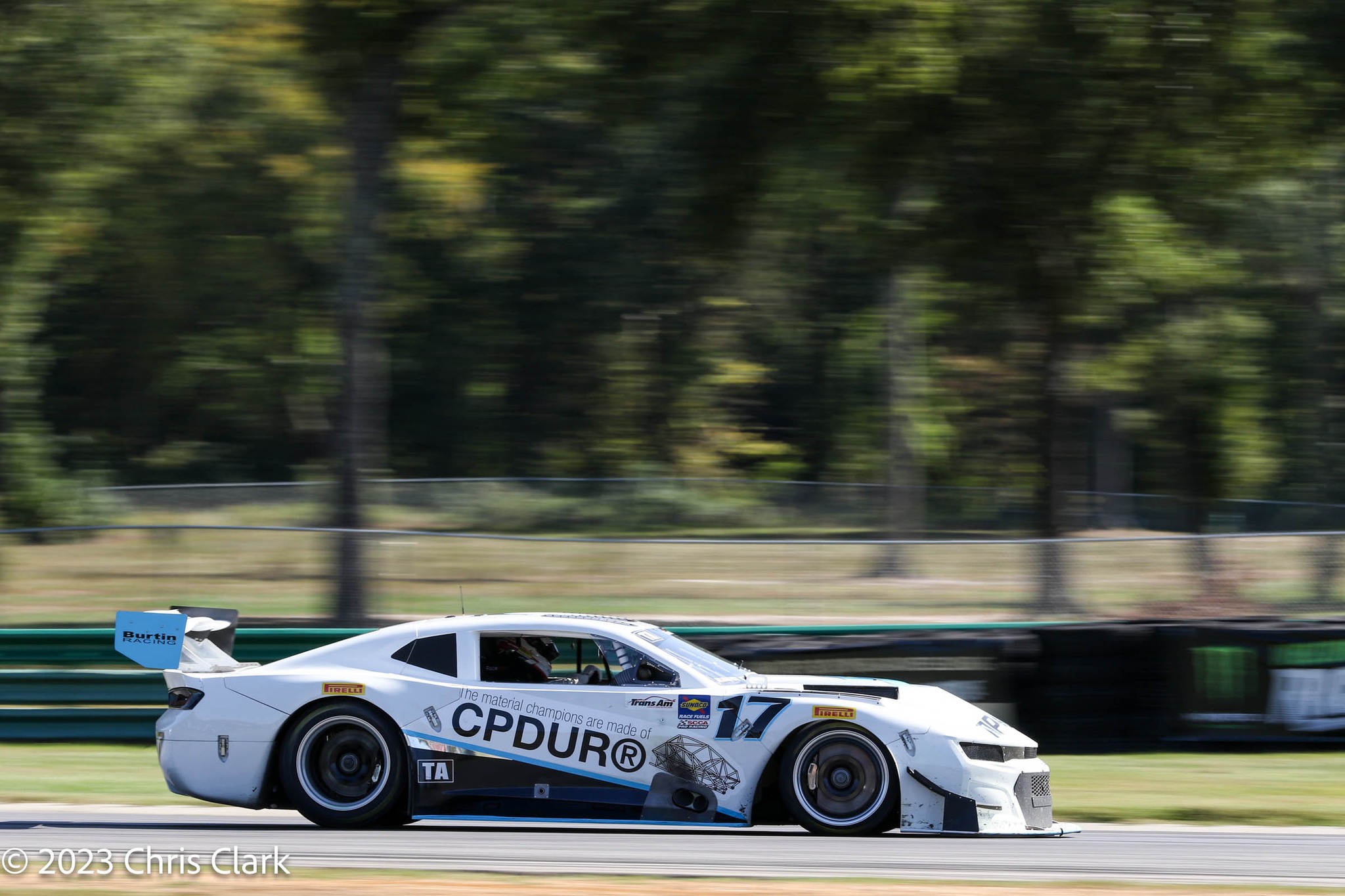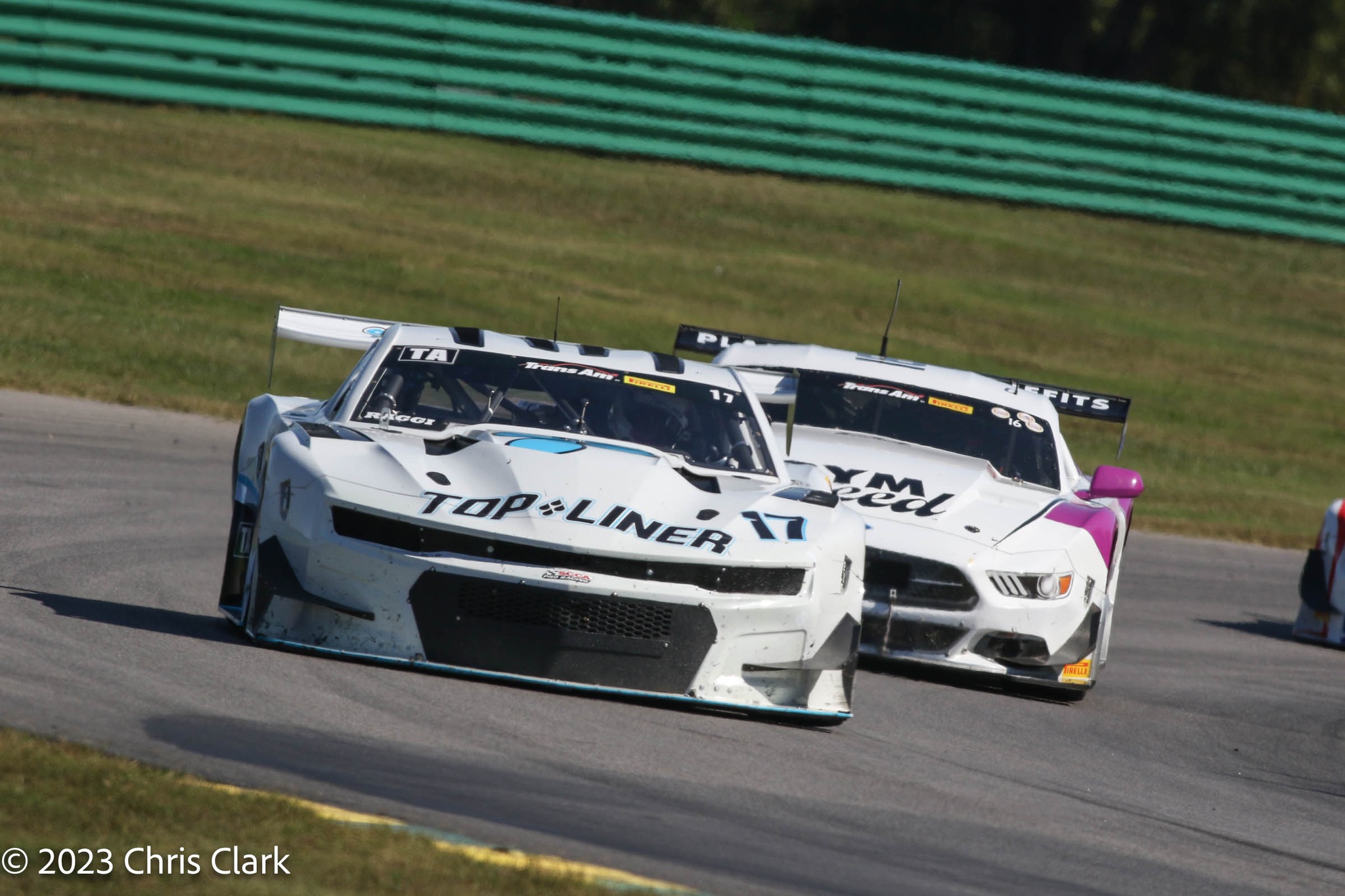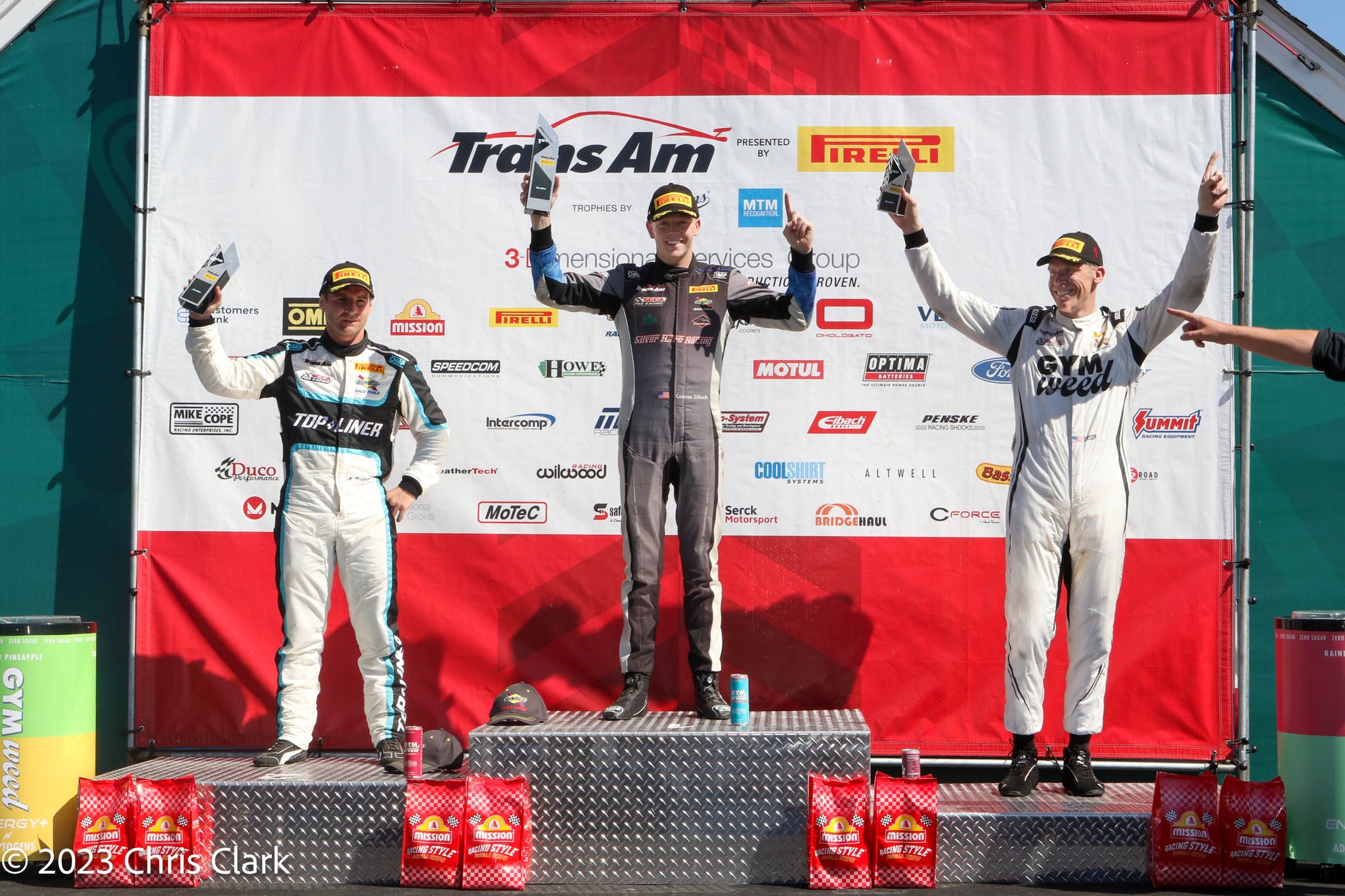 Alton, VA – October 9, 2023 – In his inaugural Trans Am race of 2023, Martin "Raggi" Ragginger clinched a second-place finish driving the freshly unveiled Top Liner/CP Tech Chevy Camaro by Burtin Racing at VIRginia International Raceway. Although the weekend presented some initial new car challenges, the Burtin Racing team efficiently resolved them, allowing Ragginger to secure a 3rd place qualifying position for Saturday's race.
"I take great pride in my team's ability to overcome technical challenges. Although the car was primarily intended for data collection, we managed to improve it in each session," said Ragginger. "I want to express my sincere gratitude to Claudio Burtin and the entire Burtin Racing team for delivering a remarkably well-designed and technologically advanced vehicle."
The race was far from lacking in excitement from the very start. As Connor Zilisch rapidly surged ahead at the beginning, Justin Marks had a minor mishap, veering a bit too wide at turn one. This presented Marin Ragginger with an opportunity to lead Keith Grant and Chris Dyson with Zilsch running away with the lead. On lap two, Dyson overtook Ragginger while Marks steadily climbed through the ranks, rejoining the fray on lap 15. In a remarkable display of skill and strategy, Ragginger utilized Richard Grant's SGT class car to successfully pick off Dyson and claim the second position, a maneuver that rightfully earned him the "Cool Shirt Cool Move of the Race" award. The thrilling three-way battle raged on throughout the remainder of the race, with Dyson and Marks exchanging positions more than once as they took turns challenging Ragginger as he successfully fended them both off to secure the second-place finishing position.
"I'm proud the team has outperformed a field that includes both new and old chassis including the Riley chassis that we've raced and developed on for years. Martin showed that an extraordinary talent in an extraordinary car, even a few things to work on, is going to be the car to beat in Trans Am for years to come. The team's remarkable performance not only highlighted their skills but also underscored the outstanding capabilities of the vehicle." said team owner and chassis developer Claudio Burtin.
The new Burtin Racing Chassis, a true masterpiece from Burtin Racing and meticulously crafted by the brilliant minds of Claudio Burtin and Damon Lockhart. This extraordinary creation is the culmination of decades of expertise and represents the pinnacle of the team's knowledge and experience in the racing industry. The new chassis is not just another racing car; it is a symbol of Burtin Racing's unwavering commitment to perfection. With its revolutionary design enhancements, it surpasses all its predecessors in the Trans Am car lineage. This exceptional vehicle is on the brink of redefining the very essence of racing vehicles, pushing the boundaries of innovation to new heights. Every detail of the new Burtin Racing chassis has been meticulously assembled, ensuring that no stone has been left unturned in their pursuit of perfection. Burtin Racing's expertise and passion shine through in every curve and contour, resulting in a racing machine that is unparalleled in its performance and capabilities.
The level of success achieved over the weekend is a testament to the meticulous thought and design invested in every endeavor associated with Burtin Racing, as well as their unwavering commitment to overcoming unforeseen challenges.
Signup for updates from Burtin Racing: https://www.burtinracing.com/newsletter/
Martin "Raggi" Ragginger, (@martinraggi), born in Salzburg, Austria, is an undeniable powerhouse in the world of professional racing. With a career spanning over two decades, Ragginger has consistently proven himself as a force to be reckoned with. From his early days in the Austrian Kart Championship, where he secured an impressive 4th place finish, to his success with renowned teams such as the Red Bull Junior Team, Savelli team, and KSN team, Ragginger has continuously pushed the boundaries of his abilities.
Even at the young age of 16, Ragginger showcased his exceptional talent by concluding his karting career with a remarkable second-place finish in the highly competitive German Formula A. This achievement served as a springboard for his entry into the world of Formula Racing in 2005, where he continued to shine. Competing for both the Mücke and Eifelland teams in Formula BMW, Ragginger notched multiple wins and podium finishes, solidifying his status as a rising star in the racing world.
Currently, Ragginger's prowess is on full display in Falken Motorsports' Nürburgring program and Porsche Holding's Carrera Cup Asia. His unwavering determination and unparalleled skill have earned him a coveted spot with Burtin Racing in the Trans Am series, where he eagerly awaits the opportunity to engage in more thrilling races.
Ragginger's track record speaks for itself, showcasing his exceptional talent and unwavering commitment to excellence. As a fan of professional racing, it is impossible to ignore the impact that Ragginger has had on the sport. With each race, he continues to captivate audiences and leave a lasting impression. It is clear that Ragginger is a force to be reckoned with, and his future in the world of racing is undoubtedly bright.
Burtin Racing and Auto Playhouse, (@BurtinRacing –  autoplayhouse.com), under the visionary leadership of Claudio Burtin, are prominent entities within the automotive industry. Situated north of Atlanta, GA, Auto Playhouse offers a meticulously curated assortment of collectibles and customer projects, tailored to the preferences of automotive enthusiasts. Additionally, Burtin Racing extends its services in the form of track-side support, driver coaching, set-up, and data operations, thereby ensuring a competitive advantage on the race track.
These two esteemed brands coexist within a cutting-edge facility, dedicated to pushing the boundaries of achievement and augmenting their already remarkable collection of accolades. With an unwavering commitment to excellence, Burtin Racing and Auto Playhouse stand at the forefront of innovation and triumph within the realm of motorsports.