Watkins Glen, NY – September 12, 2017 – Burtin Racing took to Watkins Glen International this weekend with the enlistment of Andy Lally to pilot the GoShare Axalta Chevrolet Camaro in Sunday's Round 9 of Trans Am presented by Pirelli competition. The race yesterday marked Lally's first entry in the series and made way for a successful outing as the team secured victory in a thrilling come-from-behind 100-mile feature race.
Weather systems moved through the area and delivered rain and wet conditions Thursday and Friday. Track time was limited as the weekend got started an engine failure in final practice allowed for Lally to commence just a few laps in the car. The Burtin Racing crew replaced the motor with a dedicated team effort in time for Saturday afternoon qualifications and it worked well into their hands. Lally smashed the track record putting up a 1:46.934 lap and a top speed of 182mph – securing the pole for the race start.
The 27-car field went green Sunday morning and the No. 50 GoShare Axalta Camaro took a comfortable lead from the start and began to pull away from second place driver Ernie Francis Jr. On lap 4 Lally experienced a tire puncture which forced a green flag pit stop. A swift tire change by Burtin Racing put him back on track without losing a lap but was slated 17th in the race running order.
As he began to maneuver up through the field, Lally was charging with a quick pace to catch the leaders. The field then went under red flag conditions after a TA3 incident in Turn 9. Sitting in second place on the restart, Lally overtook Fix on the exit of Turn 1, taking back the lead. His top spot would be uncontested until the race's conclusion four laps later, nine laps short of the slated 30 laps, due to time constraints.
After the checkered flag and on his way to claim his trophy at podium ceremonies, Lally put down a spectacular smoke show of donuts that satisfied watchful spectators on the front stretch of Watkins Glen International.
"What an amazing day," Andy Lally described his victory after the race. "I knew we had a good car after qualifying but to have put it to the test by coming from the back to the front was quite nerve-racking. The crew did an amazing job with a really fast tire change from a flat on lap 4. Then, we were able to bunch up under yellow and start making our moves once we went green again. Paul and Amy were great to race with and I can't thank Burtin Racing enough. Tip of the hat to Lee, our engine builder, he gave us great power. Gary, Gary Jr., Stick, Joe, JJ and Claudio really brought the best out of Burtin Racing today. Last night they stayed late to make sure we got the right changes in the car. Watkins Glen is a special place to me – to make two poles and two race wins in one year is a dream come true. To win in my Trans Am debut is an amazing feeling. I hope I get to come back and race this series much more in the future."
Burtin Racing team owner Claudio Burtin shared his thoughts from the winner's circle, "This truly was a team effort and a testament to the depth of our team. We lost our primary engine in practice and then had the puncture in the race. We were forced to pit under green and then went on to win a sprint race! Amazing work all around and Andy did a fine job wheeling it. The Burtin crew was strong and God was watching over us!"
For driving up from 17th overall in the multi-class competition to first place, Andy Lally was awarded the COOLSHIRT Systems Cool Move of the Race.
This event made for the third race Burtin Racing has campaigned the new 2017 Chevrolet Camaro body-style. The team finished second at Mid-Ohio and secured the pole position at Road America with Martin Ragginger last month in August. The next outing for Burtin Racing will be Claudio Burtin getting back in the race seat in Indy at the SCCA Runoffs in the Goshare Corvette C7.R.
Please visit www.burtinracing.com for news and a full photo gallery from the Trans Am weekend. Follow @burtin_racing on Twitter and "Like" the team page on Facebook.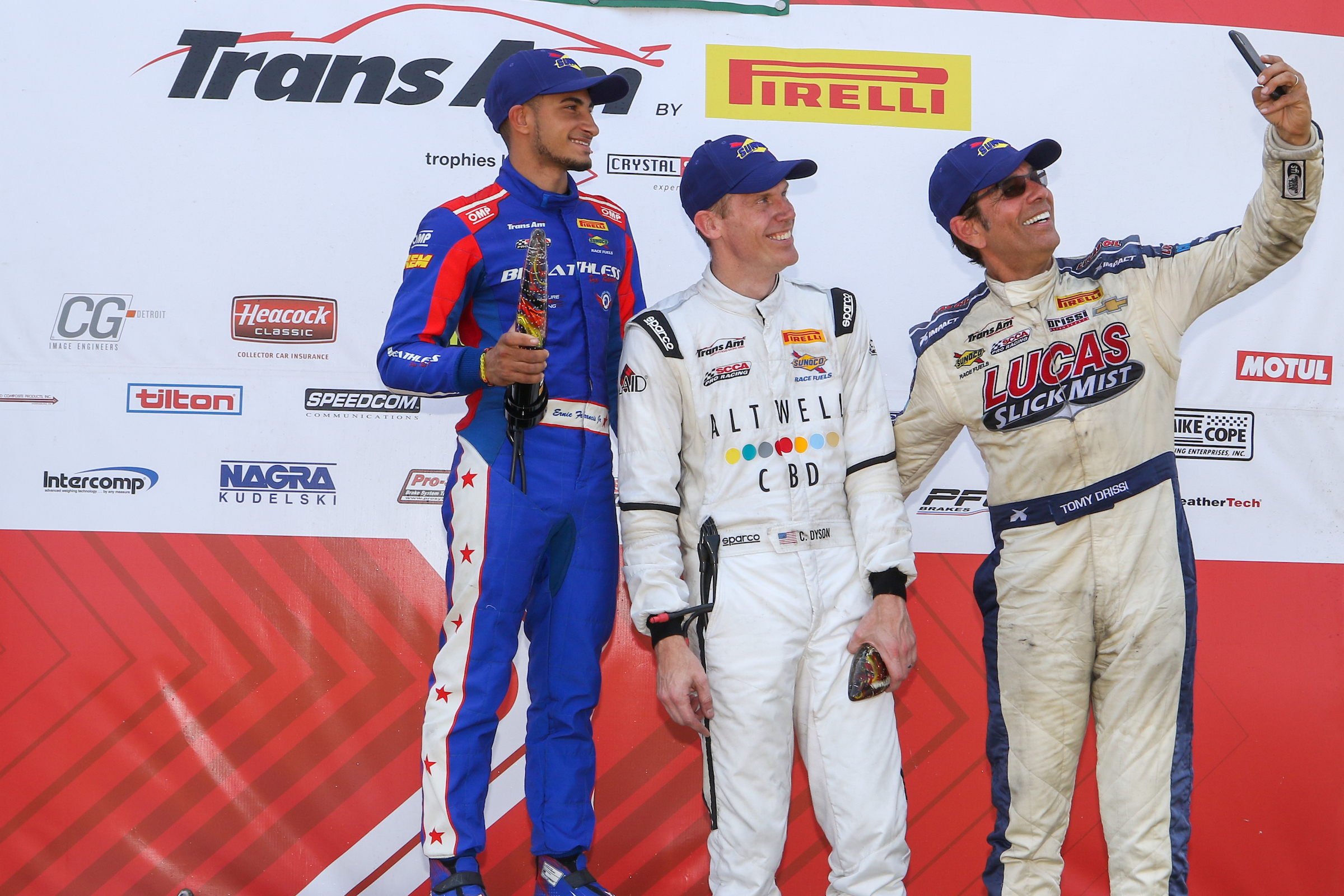 Brainerd, MN (July 22, 2021) – Trans Am Championship Presented by Pirelli competitor, Tomy Drissi, piloted the Lucas SlickMist Camaro by Burtin Racing to his fourth Motul Pole Position Award of 2021. The veteran driver fought a damaged car mid-race and pulled off...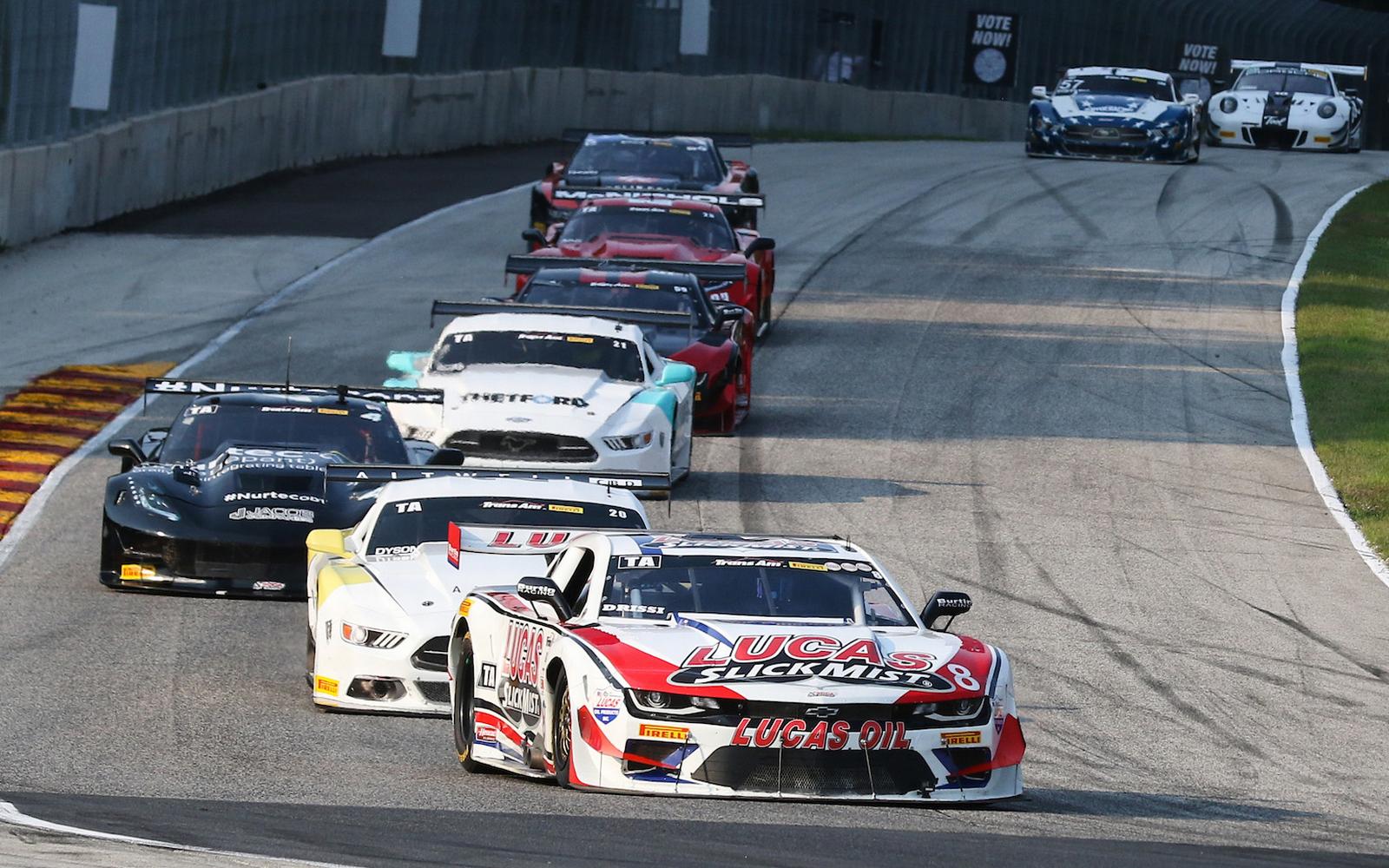 Plymouth, WI (July 7, 2021) – Trans Am Championship Presented by Pirelli competitor, Tomy Drissi, piloted the Lucas SlickMist Camaro by Burtin Racing to the pole at Road America on 4th of July weekend. The former Trans Am champion led the star studded field and...
Plymouth, WI (July 2, 2021) – After celebrating his 4th consecutive podium, Lucas SlickMist Driver Tomy Drissi is heading to Road America to continue his momentum at Round 6 of the Trans Am Championship Presented by Pirelli 4th of July race. The championship driver...
Lexington, OH (June 30, 2021) – Lucas SlickMist Driver Tomy Drissi is celebrating after locking his fourth consecutive podium at Mid-Ohio Sports Car Crouse this past weekend. The second place finish was not without its drama as the former champion led the field with a...